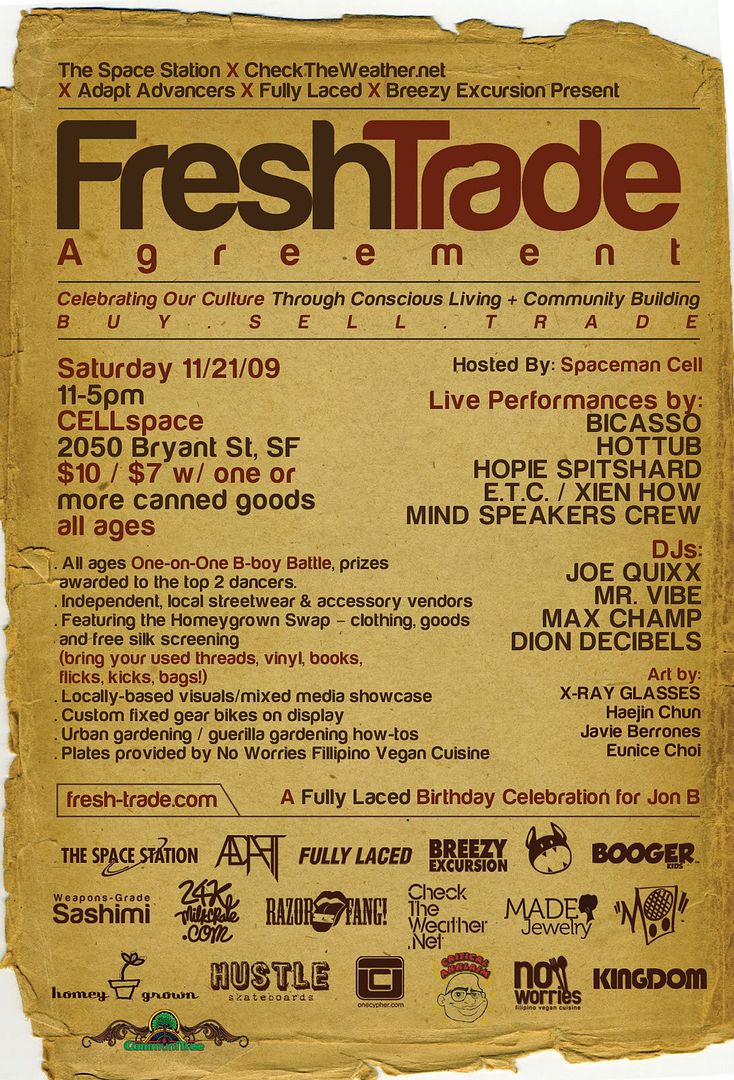 Told you we were busy! This Saturday, our homies from the
Space Station
are throwing an event to celebrate conscious living...the
Fresh Trade Agreement
. If you're going to throw the word trade in your event, then you're going to have to have a trade opportunity there, which is why Homeygrown was invited to hold a swap at the event. Not only that, we're doing FREE silkscreening too, so come and get your duds dolled up for nada.
This is going to be a pretty powerful event, so please come and support, and don't forget to bring something to swap!
We're also fresh trade approved! Homeygrown had the
first write up for the event
! Click the link to read what the homies had to say about us.
We are jumping this off with a group of folks that WELL encapsulates the spirit of the Fresh Trade Agreement.

And FOLKS they be, for real.

Photobucket

HOMEYGROWN is a fashion collective, headed by two fiery fems – ARTIFFACT and ROCKILL. The versatility of these two seamstresses is not really done justice in a blog post. They've built HOMEYGROWN to rep the most creative, freshest threads in recycled & reconstructed clothing. Both Artiffact and Rockill have individually created their own styles and signature pieces, including Rockill's one-pocket aprons made from recycled fabrics. This is sustainable fashion built on some beautiful community building. We are super excited to support!

Also, HOMEYGROWN has been holdin down swaps and fashion shows in the Bay for years, if you haven't been to one yet yo'self. Lucky you, Nov 21st at Fresh Trade Agreement, you'll be able to experience the infamous HOMEYGROWN SWAP, complete with ill silk screens to customize your swap finds. And maybe we'll convince them to lace up their friends for a fashion show…

www.homeygrown.org
www.swapnotshop.info
or www.myspace.com/homeygrown